Summer 2015 – Japan Escorted Tour (SOLD-OUT!)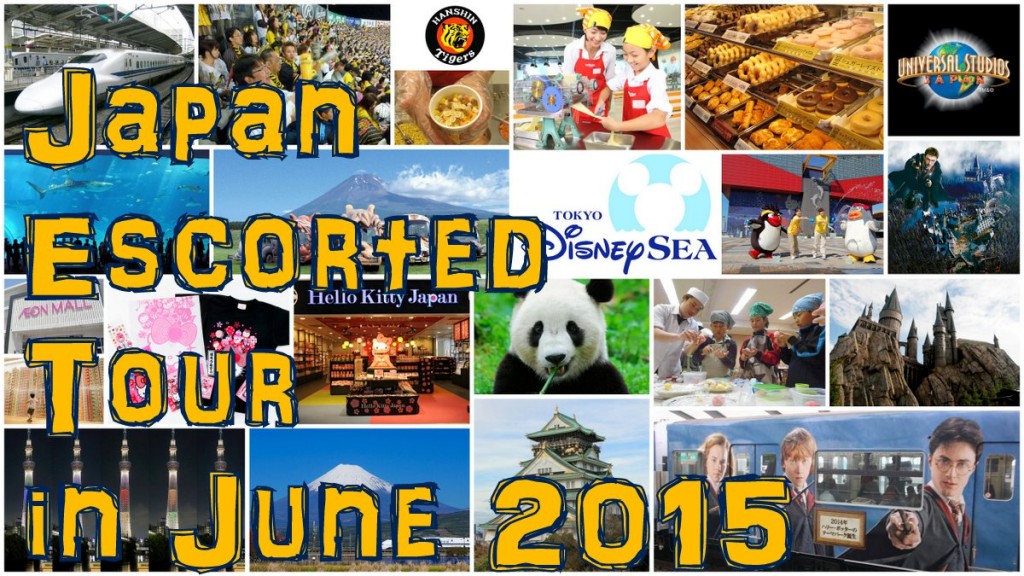 Exclusive Japan Escorted Tour from Hawaii with Japanese Hospitality
"Early Summer Fun in Japan – Let's Enjoy Tokyo and Osaka!!"
**Perfect for first-time & repeat travelers to Japan!
**Ohana with Keiki are welcome to join!
**Very flexible & cost-effective!
(Japan Tour #003)
Tour Highlights:
1 ) Enjoy Japan Local Style & Experience the Japanese Hospitality!
2 ) See the Night View at Tokyo Skytree & Enjoy Solamachi Shopping & Dining!
3 ) Enjoy 4 Days of Free Time to Explore Japan Freely – Endless Possibilities!
4 ) Find the History of Japan at Osaka Castle Built by Toyotomi and Castle Museum!
5 ) See One of the Largest Aquariums in the World at Kaiyukan in Osaka!
6 ) Try Local Food like Ramen, Udon, Takoyaki, Okonomiyaki, Sushi, Bento, & more!
7 ) Enjoy Omiyage Shopping at 100 Yen Shops/Supermarkets/Depachika & more!
Tour Dates:
June 9, 2015 – June 18, 2015  < 10 Days/8 Nights >


(2 easy hotel locations! – 4 nights in Tokyo and 4 nights in Osaka)
*We can arrange for your extended stay in Japan
Tour Destinations:
1)

Tokyo area

:
– Tsukiji Fish Market – Asakusa/Sensoji/Nakamise Streets – Tokyo Skytree/Solamachi
** Tokyo Disney Resort & Baseball Game Giants vs Marines) on free days
2)

Osaka area

:
– Kaiyukan Aquarium – Namba – Dotonbori – Osaka Castle
** Universal Studio Japan & Kyoto on free days
– Visit some of the Japan's most popular amusement parks and other popular spots on your 4 days of free time:


Tokyo Disneyland & DisneySEA (escorted), Universal Station Japan (escorted), Ghibli museum, Sanrio Puroland, Kidzania, Tokyo Joypolis, FUJI-Q Highland, Yomiuri Land, Legoland, Ueno Zoo, Hakkeijima Sea Paradise, Shinagawa Aquarium, Sumida Aquarium, Baseball Stadiums, Soccer Stadiums, Concerts, Museums, etc.
– Also, visit other areas beyond Tokyo and Osaka:


Yokohama, Kamakura, Hakone, Izu, Mt. Fuji, Nikko, Kawagoe, Niigata, Nagoya, Kyoto, Nara, Kobe, Hiroshima, Yamaguchi and more…
Tour Prices (Land Only):
-Adult (age 12 or <) w/Double & Triple Occupancy:        -Child (age 6 – 11) w/ Adult Occupancy
$1,680.00 per person + tax                    $1,480.00 per person + tax
*All prices listed are based on double/triple occupancy (also single occupancy available)
*Price for children is good with adult double/triple occupancy
*For prices for children under age 5 and single occupancy, please inquire with us
*The minimum number of participants required for this tour is 10 adult/children (age 6 – 11)
< Inclusions >
*8-night budget or business-type hotel accommodation with 2 buffet breakfast (1 each at Tokyo and Osaka hotel) – your hotels will be announced 2 – 4 week(s) before the tour departure date.
*Full-time services including tour guiding, escorting, interpreting, etc. provided by English/Japanese speaking tour guide(s) from the beginning to the end of the tour in Japan.
*All transportation fees in Japan: 6/9 1-way airport limousine bus ticket from Haneda or Narita airport to Tokyo station, 6/11 1-day train/subway pass, 6/14 bullet train ticket (ordinary seat) from Tokyo to Osaka Station, 6/15 1-day Osaka pass (Enjoy Eco Card), 6/18 1-way airport limousine bus ticket from Osaka hotel to Kansai airport (or Tokyo to Haneda or Narita Airport).
*All admission and entrance fees (6/11 Tokyo Skytree at 350 m & 450 m decks, 6/20 Osaka Castle & Kaiyokan Aquarium).
*One luggage transfer per person from Tokyo hotel to Osaka hotel or Kansai airport (by delivery company).
*One-way airport shuttle transfer from your home to Hilo airport (leaving on 6/9 and in Hilo area only).
< Exclusions >
*Roundtrip airfare from Hawaii to Japan
*Incidental hotel charges such as room service, laundry service, phone calls, etc.
*All lunches and dinners in Japan
*Travel & medical insurances
*Wi-Fi rental fee for smart phones, tablets, etc.
*Passport fees
*Personal expenses (food, omiyage, etc.)
*Fees for tour participations on the free days
Tour Itinerary:
< Day 1 >
Tues. 6/9…..Depart from Hawaii
– Meet with us at Hilo airport or Honolulu airport if you fly on the same flights as us.
(**We can provide free airport shuttle if you live in the Hilo area)
(**We can arrange your hotel room(s) for earlier arrival to Japan)
Wed. 6/10…..Arrive in Tokyo, Japan – Narita or Haneda Airport (closer to the hotel)
– Meet with your tour guides at hotel (or airport if available) in Tokyo
< Day 2 >
Thurs. 6/11…..1-Day Trip (Tokyo):
– Tsukiji Fish Market – Asakusa (Sensoji Temple & Nakamise Shopping Streets)  – Tokyo Skytree (with Night View) & Solamachi Shopping Mall
< Day 3 >
Fri. 6/12…..Free-Day (Tokyo):
– Plan and make your own customized trip!!
(**Tokyo Disney Resort – DisneySEA & Disney Land day escorted by us)
< Day 4 >
Sat. 6/13…..Free-Day (Tokyo):
– Explorer Tokyo area more!!
(**NPB Baseball game day – Giants vs Marines, escorted by us)
< Day 5 >
Sun. 6/14…..Transfer-Day (Tokyo to Osaka):
– Transfer from Tokyo to Osaka by bullet train, Shinkansen
< Day 6 >
Mon. 6/15…..1-Day Trip (Osaka):
– Osaka castle – Namba – Dotonbori – Kaiyukan Aquarium
< Day 7 >
Tues. 6/16…..Free-Day (Osaka):
– Plan and make your own customized trip!!
(**Universal Studio Japan day escorted by us)
< Day 8 >
Wed. 6/17…..Free-Day (Osaka):
– Explorer Osaka area more!
(**1-day Kyoto trip day escorted by us)
< Day 9 >
Thurs. 6/18…..Returning Day (Osaka):
– Rinku Premium Outlets & Rinku Pleasure Town for the last-minute shopping
– Depart from Kansai Airport or Airport in Tokyo or Nagoya
– Return to Hawaii
(**We can arrange your hotel room(s) to extend stay in Japan)
*Scroll down to see tour images
Air Tickets to Japan:
This tour provides land services only and does not include your air tickets to Japan. To book your air tickets and get the lowest airfares, we recommend you to go online and check websites of airline companies or other travel sites. If you have enough miles to redeem, this is a great opportunity for you to use it! For example, for the Hawaiian Airlines, you need at least 40,000 miles to get 1-way air ticket to Japan. If you need an assistance booking your air tickets, please inquire with us.
Some of the direct flights from Hawaii to Japan are as follows:
*Delta Airlines:
1) HNL to NRT: DL295 or DL579
2) NRT to HNL: DL296 or DL578 or
3) KIX to HNL: DL278
*Hawaiian Airlines:
1) HNL to HND: HA458
2) HND to HNL: HA458 or
3) KIX to HNL: HA450
Also, more direct flights available from ANA – Japan Airlines – United – China – Korean Airlines
*Please book your air tickets after receiving a confirmation of the guaranteed tour departure from us. We will notify you by April 30, 2015 if the minimum tour participant requirement of 10 PAX is met. *Please send us your flight information after you book your air tickets. Then we can provide you with instructions to meet the tour group at airport or hotel in Japan.
*We can't guarantee to be on the same flights as yours as air tickets are arranged by customers.
Tour Registration:
To register for the tour, please fill out a tour registration form in PDF (
download here

) or register online below and mail it to us or drop it at our office with a deposit fee of $100 per person. Checks, cash or credit card payments (by Paypal or at our office) are acceptable.
Attn: Yosh Sato
Japan Tour Sales
MAIKAI OHANA TOURS
260 Kamehameha Avenue, Suite 209
Hilo, HI 96720
Final Tour Payment(s):
We will notify you of your balance payment (tour price + tax – $100) 1 week before the due date on April 30, 2015 if the tour departure is guaranteed. A personal check, cash or credit cards (at our office or by Paypal) are acceptable. If you qualify for a discount and are late to make the balance payment, you will be disqualified for the discount.
Cancellation Policy:
If you need to cancel your tour reservation, you must advise us in writing (by a letter signed by the person who has made the reservation or e-mail). Then we will confirm your cancellation and notify you of any cancellation fee(s) if any. Please note that any cancellation request by phone will not be accepted.
If you cancel your reservation, one of the following cancellation fees applies:
– anytime prior to April 15, 2015 (        – 4/30/2015):  $100 deposit per person
– 39 to 25 days prior to the departure date (5/01 – 5/15/2015): 50% of total tour price
– 24 to 0 days prior to the departure date   (5/16 – 6/9/2015): 100% of total tour price
*Deposit will be refunded to you if the tour is cancelled due to the minimum participant requirement.
Terms and Conditions:
*You must have a valid US passport to travel to Japan.
*Participants with Non-US passport may require to obtain visa from the Consulate General of Japan in Honolulu before the tour departure. Please contact at 808.543.3111.
*You must be in good health condition and able to walk long-distance.
*Daily tour schedule is subject to change due to weather conditions or other unforeseen circumstances.
*Due to limited storage space on transportation like trains, it is recommended to carry only 1 luggage or 1 hand carry bag per person when transferring from 1 location to another.
*Travel insurance is recommended to purchase for your protection.
*Your hotels will be secured and announced to you 2 – 4 weeks before the tour departure date. All rooms will be budget/economy-class/business type: twin-bedrooms for double occupancy and single-bedrooms for single occupancy with non-smoking or smoking (can be treated with room freshener).
*Credit cards are widely accepted to make your purchases in Japan. However, it is recommended to exchange some amount of cash (at least 50,000 Yen) to be expensed for your own needs. Local shops (100 yen shops, etc.) and restaurants may not accept credit cards.
*Children are welcome to participate in the tour, but must be accompanied by a parent(s), grandparent(s) or legal guardian(s) with a parent's permission note.
*The minimum number of 10 tour participants is required to guarantee the tour departure.

(Registration status as of 4/07/2015: SEATS STILL AVAILABLE/GUARANTEED DEPARTURE NOW!)
Download Adobe Reader for free here:

Travel Insurance
Travel insurance is highly recommended for all tour participants. Our partner, Allianz Travel Insurance, offers several options to cover your Japan trip. To get an instant quote, please visit one of the links below:


(Last updated: 03/02/2015)
Tour Itinerary (continued from above):
Day 1: Hawaii/Tokyo
– Free airport shuttle from your home!
We will come and pick you up! (in Hilo area only)